Global Locations
COMPANY BRANCH INTRODUCTION

Well Make, a global group with Taiwan-based company, is committed to developing in the hardware and auto repair tool market. At present, we have developed into a full service company especially in the fields of trade, research and development, production and e-commerce.

Our head office is set up in Taipei (Taiwan), and we also have branch offices in Taichung (Taiwan), Ningbo (China), Dongguan (China), and the Piedmont, South Carolina (USA).

We will continue to provide not only diversified and high-quality products but also comprehensive and professional services, and most importantly, to show our strength of globalization, and keep on with making great achievements.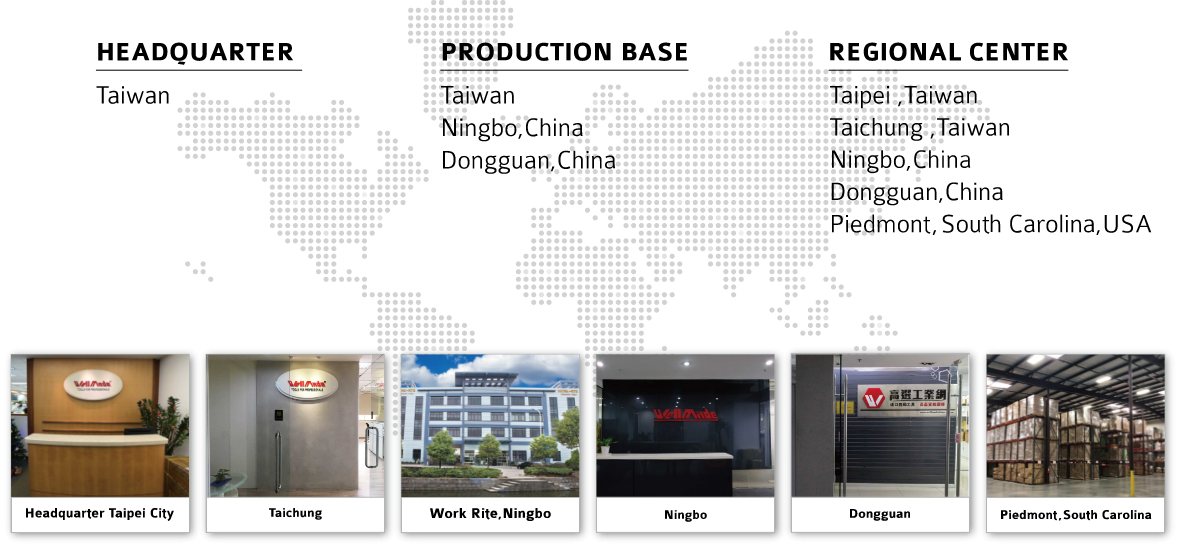 Professional Manufacture
R&D Capabilities (OEM、ODM、3D printer)
Registered Patents (Over 100 patents around the world)
Quality Control Equipments (computerized torque tester、air tool performance test machines、speed testing tool、material examination machine)
Excellent Service
Logistics Integration & Management
40-Year-Experienced Sales Team
Intensive Sourcing (More than 800 models of products)
Global Market Distribution
Well Make serves customers all over the world